Matthew R. Arnold of Arnold & Smith, PLLC answers the question "Can any attorney help me with my family law needs in North Carolina?"
Buncombe County Registrar Drew Reisinger stayed at work late this past Friday to issue a marriage license to Amy Cantrell and Lauren White. Cantrell and White became the first same-sex couple in Buncombe County to be married after United States District Court Judge Max O. Cogburn, Jr. struck down the Tar Heel State's same-sex marriage ban. Cogburn's order came a little after 5:00 p.m. Friday.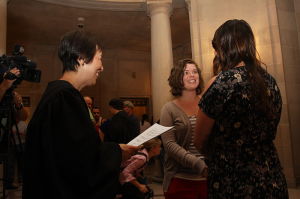 Reisinger stayed on after closing time to issue marriage licenses to Cantrell, White and 19 other couples. He said it had been heartbreaking to have to deny licenses to same-sex couples "based on discriminatory laws" and that it was an honor to finally be able to say yes.
Cogburn ruled that "North Carolina's laws prohibiting same-sex marriage are unconstitutional as a matter of law." Cogburn is a judge in North Carolina's Federal Western District, however North Carolina Attorney General Roy Cooper told reporters Friday that Cogburn's ruling applies statewide.
Within minutes of Cogburn's order, register of deeds offices statewide became the focal point for the legal, social and political surge in favor of same-sex marriage. The Asheville-Citizen Times reported that "couples who brought ministers with them began exchanging their vows on the steps outside the register of deeds" while other couples lined up at the counter inside to obtain licenses.