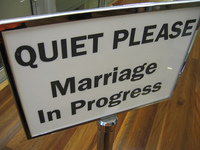 It stands to reason that separating and divorcing couples may not want every intimate detail of their marriage, separation and divorce to be a matter of public record.
They will sometimes incorporate confidentiality provisions into their Separation and Property Settlement Agreements. Unfortunately, this may or may not be something that a person involved in a contested issue can control and the Courts may not enforce such provisions. Mecklenburg County Family Court recently addressed this issue in the case of NASCAR chairman Brian France.
The Charlotte Observer and WCNC-TV sought to unseal the France court file. The file was previously sealed by another Mecklenburg County Family Court Judge. The news outlets argued that the file had been wrongly sealed.
This time around, the Court ruled that the file should be unsealed on the basis that there is not a compelling public interest in keeping the file sealed. France has appealed the ruling to the North Carolina Court of Appeals.