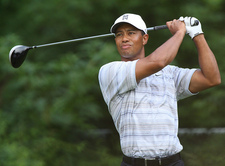 As reported by the Charlotte Observer, reports coming out this week indicate that Elin Nordegren, the soon-to-be-ex Mrs. Tiger Woods, will receive over $750 million from her husband in their divorce settlement. Although Elin estimated that her legendary golfer husband was worth approximately $1 billion, her attorneys uncovered several additional assets owned by Woods which served to increase his net worth. Elin will also receive sole physical custody of the children and will share legal custody with Tiger.
In exchange for her large payout, Elin is banned from publicly speaking or writing about Tiger's reported affairs and any aspects of their divorce. Thus, unlike many wronged celebrity spouses, Elin must maintain a dignified silence for the rest of her life, regardless of whether Tiger predeceases her. For his part, Tiger is also banned from allowing any future or current mistress or girlfriend near his two children – unless he is marrying one. Under this deal, only married women not romantically linked to Tiger and female members of the staff known to Elin are allowed near the children.
Elin's receipt of over $750 million is by far the biggest celebrity divorce payout in U.S. history. The previous record was a $168 million payout to Juanita Jordan – otherwise known as the former Mrs. Michael Jordan. Other celebrity divorce settlements rounding out the top twelve include: Neil Diamond and Marcia Murphey ($150 million), Steven Spielberg and Amy Irving ($100 million), Harrison Ford and Melissa Mathison ($85 million), Kevin Costner and Cindy Silva ($80 million), Madonna and Guy Ritchie ($76 to $92 million), Paul McCartney and Heather Mills ($60 million), James Cameron and Linda Hamilton ($50 million), Michael Douglas and Diandra Douglas ($45 million and two homes), Lionel Richie and Diane Richie ($20 million), and Mick Jagger and Jerry Hall ($15 to $25 million).