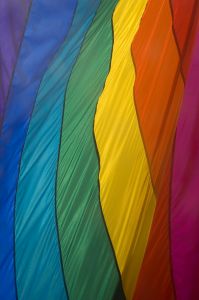 One girl in Florida will be able to count herself among the very few who can say that they legally have three parents. A judge in Miami-Dade County recently signed off on the unique agreement which gave a lesbian couple and a gay man parental rights to the child.
The situation came about after a hairstylist in Miami Beach, Massimilano Gerina, met a lesbian couple and became fast friends with them. The couple had an interest in conceiving a child and approached Gerina several times with the idea.
After more than a year of discussion, the trio entered into a verbal agreement saying that Gerina would be the father of the baby and be permitted to see her whenever he wanted. Though the agreement existed in their minds, nothing was ever written down, assuming it would easily be put in place later. The insemination process took place in a private medical setting and happened much more quickly than anyone expected, not allowing for time to flesh the agreement out more fully.
The lesbian couple, apparently after having a change of heart, drew up a new agreement and asked Gerina to sign, one that said he would only be seen as a sperm donor and would have no parental rights to the child. Gerina was shocked and sued the couple for paternal rights once the girl was born.

The whole process lasted almost exactly two years but ended up working out well for the man. Though Florida law makes clear that sperm donors have no parental rights, Gerina's lawyer argued that the preexisting agreement between Gerina and the lesbian couple meant that he could not be viewed simply as a sperm donor.
Now that the battle has been won and a judge signed off on the final agreement, Gerina has been given weekly visitation with the 23-month-old girl. The child's birth certificate has also been reissued listing all three as parents. Gerina says despite the litigation, he remains good friends with the couple and that all three are able to get along for the sake of their daughter.
If you find yourself facing a complicated family matter then you need the help of experienced child custody lawyers in Charlotte, North Carolina who can help guide you through the often confusing process.
See Our Related Blog Posts:
Same-Sex Adoption Laws Lead ACLU to Sue North Carolina
Gay Divorce without Gay Marriage?
See Our Related Videos From Our YouTube Channel: