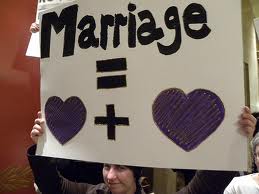 As reported by the Charlotte Observer (Poll: Most oppose same-sex marriage ban), according to a recent poll conducted by Elon University, fifty-six percent of North Carolina residents oppose a North Carolina state constitutional ban on same-sex marriage. Also, the number of individuals who would prefer to see no legal recognition for same-sex couples has dropped over the last two years.
Only thirty four percent of those polled oppose any legal recognition for same-sex couples. This figure is down significantly, from forty four percent, from the March 2009. Following a similar trend, thirty three percent of those polled support full marriage rights for same-sex couples, which is up from only twenty one percent in 2009. Roughly the same percentage of those polled support civil unions or partnerships, but not full marriage rights.
The study surveyed 594 North Carolina residents with a plus or minus 4 percentage point margin of error. The poll did not restrict respondents based on voter eligibility or likelihood of voting.

There is a North Carolina constitutional amendment which would ban gay-marriage which is up for a vote in May 2012. It is anticipated that both sides will vigorously try to sway popular opinion before the vote as this is a hot button issue in North Carolina and across the country.
Thank you for visiting Charlotte Divorce Lawyer Blog. Please contact us if you are in need of a Concord divorce lawyer.