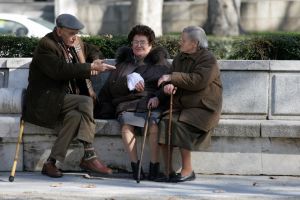 A reality that many families are only beginning to face is the effect that divorce can have later in life on caregiving, especially for adult children and stepchildren. Taking care of older parents is hard enough; the only thing harder is having multiple sets of parents to watch after. This difficulty is compounded by the impact of a chorus of people seeking to give their two cents, including spouses, siblings, stepchildren, half siblings, and stepsiblings.
Beyond the problems faced by those who are the children of divorce, worries loom for middle-aged people in the midst of a divorce. They too will require help in the future and the question of who will be around to do it is on lots of people's minds. The problem isn't a small one as data indicates that today one out of every three baby boomers is single, many due to divorce.
As we discussed last week ("Gray Divorces" Present Unique Challenges), the "gray divorce" trend is on the rise. They will all need help but who is going to step in? It's common knowledge (and backed up by studies) that women tend to have stronger support systems in place than men. This means that women will likely be more secure in their old age with a larger network of people ready to care for them. Sociologists and others worry about how men, in particular, will survive without a wife around to help out in their old age.
One sociologist pointed out that because women more often keep the kids following a divorce (especially thirty years ago, the peak time for divorce for those entering old age today) the children may have bonded more with mom than with dad. Absent fathers may not have any children standing by to take responsibility if something happens.
Other problems facing older divorcees include the impact of stepchildren. Will stepchildren feel much allegiance to supporting their parent's former spouse, one with whom they share no DNA? How about when parents remarry with adult children, some of whom have families of their own? Will those kids feel any kinship with the new step mom or dad and thus feel compelled to sacrifice for their care?

The point of this is not simply to cause worry for all those middle-aged folks contemplating divorce. The goal is to help you begin to prepare now before trouble arises later on. If you're divorced, you need to start considering what will happen to you should you need care later in life. There are a plenty of options besides relying on a wife or children. There are adult communities or friends as well as a variety of other support systems to help you in your old age. The takeaway message should be to begin working to ensure a support system is in place before you ever need it.
If you find yourself facing the prospect of divorce in Charlotte, contact an experienced family law attorney in Charlotte, North Carolina like those at Arnold & Smith, PLLC who can help guide you through the sometimes-confusing process.
See Our Related Blog Posts:
"Gray Divorces" Present Unique Challenges
Baby Boomers in North Carolina Increasingly Decide to Call It Quits