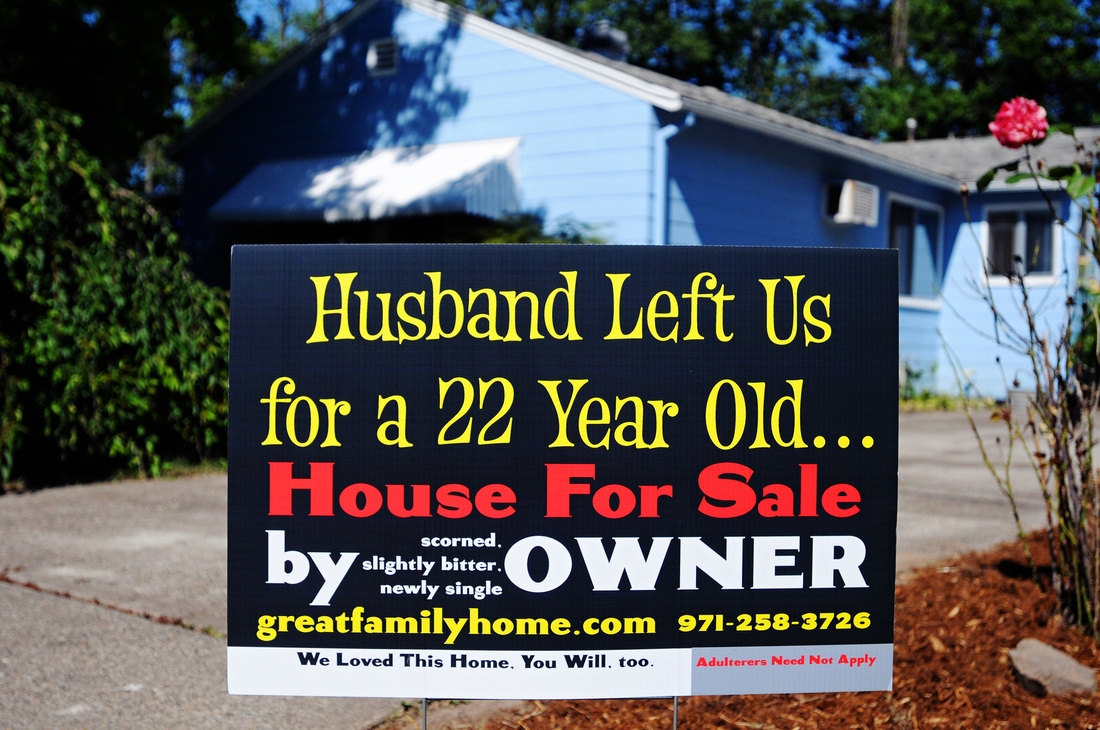 A mother of two who was the victim of infidelity after 10 years of marriage is trying to make lemonade out of life's lemons. After her husband left her for a 22-year-old yoga instructor, Elle Zober channeled her frustration into helping sell the family home.
She started by making a sign and placing it in the front yard which reads, "Husband Left Us For 22-Year-Old – House For Sale By Owner (Adulterers Need Not Apply)." Zober says her husband knows about the sales pitch and even chipped in to pay for some of the signs promoting the sale.
Zober also launched a website about the sale, http://www.greatfamilyhome.com/, where she tells her story and offers photos of the property. On the website she says:
"We did everything right. Married ten years. Two kids: one perfect boy, one bouncy, perfect baby girl. We had almost no debt outside of our cars and we bought a house…. but, as with many marriages, our story ends in divorce. I'm not sure how this all happened… but, all I can is that as soon as your husband/wife starts using new texts languages like :/, or starts talking to you like a college kid…. check your phone bill – you're probably going to be in for a surprise. For me that surprise came in the form of a 22 year old college student who likes yoga… and, other people's husbands."
Zober says they have not shown the signs to her children but have no problem airing their dirty laundry in public as long as the house sells. She said both she and her husband want to avoid having the house go into foreclosure, a common problem these days when a divorced family suddenly must support two households on the same amount of money as when there was only one. She's not just selling the house, Zober has also decided to capitalize on the media attention surrounding her website and is even selling merchandise, including a $5 refrigerator magnet.

The woman says that she's certainly no realtor but was as factually accurate as possible about the statistics and dimensions of the home. The asking price for her 3-bedroom/1-bath home: $169,000.
If you find yourself facing the prospect of divorce in Charlotte, contact an experienced family law attorney in Charlotte, North Carolina like those at Arnold & Smith, PLLC who can help guide you through the sometimes-confusing process.
See Our Related Blog Posts:
Protecting Your Finances in a North Carolina Divorce