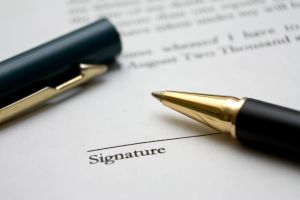 Negotiating a divorce settlement can be stressful, especially when tension is high and your spouse insists on contesting every last detail. One thing that often is last on people's priority list, but which should not be overlooked, is insurance.
As the Huffington Post explains, insurance policies are standard parts of Separation and Property Settlement Agreements. The spouse who pays alimony or child support is commonly expected to maintain a life insurance policy that would cover the debt owed to the spouse or children on the receiving end of the money, in case the payer dies while a debt is owed.
If you're the spouse who is the beneficiary, you must be certain that the policy amount is sufficient to cover your children's educations, your mortgage and related debt. It's important to consider sticking in guarantees that forbid a lapse, cancellation or change of beneficiaries to the life insurance policy.
The death benefit on a term policy should meet or exceed the minimum amount a spouse would pay over time for spousal or child support. But more than just that simple calculation, other expenses should also be considered. For instance, is the health insurance under the paying spouse's name? If so, what would it cost to find a new insurer and pay the premiums? That needs to be calculated into the number needed for the policy's death benefit.
It's critical that the details are attended to when it comes to insurance. For instance, while most divorce agreements require that a spouse purchase a life insurance policy, does yours go on to require that they maintain it? Lapsed policies can be canceled, something you surely don't want to happen if you're the beneficiary. Experts suggest adding the beneficiary spouse's name to the policy as a contact that insurers can use if policy premiums ever go unpaid.

Maximum asset protection is only achieved by carefully negotiating what is needed in the present and future before the divorce is finalized. The process can be draining, but temporary tension can help ensure peace of mind in the future.
If you find yourself facing the prospect of divorce in Charlotte, it is best to contact experienced equitable distribution lawyers who practice in Lake Norman, North Carolina like those at Arnold & Smith, PLLC who can help guide you through the often difficult process.
See Our Related Blog Posts:
For a Cheap North Carolina Divorce Start Cooperating