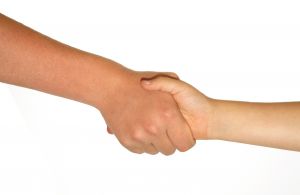 According to one recent article, it can be difficult to know how to approach a future relationship with your ex. It's complicated given all the water under the bride and can be awkward moving forward. A good general rule of thumb is that amicable splits make for better friendships than ones involving infidelity and jealousy.
The article lays out five questions to ask yourself to determine if you've really moved on and are able to just be friends with your former spouse.
1. You immediately want to be friends after breaking up.
Accepting that your partner is no longer part of your life is a great way to move on from the marriage. This realization may allow you to salvage a friendship. People who can't accept life without their spouse often don't make for good friends as the underlying reason is to try and stay close to someone they weren't ready to party with.
2. You miss your ex's company.
You need to decide what exactly you miss, is it that romantic alone time or the funny jokes you'd tell laugh about together. Articulating this will help you decide whether you are missing the actual person vs. missing the relationship.
3. You talk about the past often.
Taking trips down memory is normal in the beginning to pave over an awkward situation. But if you continue to dwell on the past or have relationship talk that shows that you're not ready to move on and that you're only attempting to cling to what once was.
4. You talk about dating other people.
Talking about romantic relationships with new people is awkward, but if jealousy rears its head that's a good sign that the friendship is not strictly platonic. You may believe that you can maintain a friendship without disclosing each other's romantic lives, but this is likely untrue. Dating and relationships will continue to be a part of both of your lives and if you are unable to share this, then the point of the friendship lacks the opportunity to grow and change.
5. You think about getting back together one day.

This is the biggest of all warning signs for people attempting friendship with an ex. Imagining and re-imagining your life with someone is a part of our nature but something that spells disaster if it's a focus of your attention post-divorce. It can be counterproductive to keep a person in your life when you're only pining to have them back.
Building a friendship with your ex does not come with a manual and as long as you remain interested in the person rather than the relationship, then your friendship has a chance to grow and be beneficial to you both.
If you find yourself facing the prospect of divorce, it is best to contact an experienced family law attorney in Charlotte, NC who can help guide you through the confusing process.
See Our Related Blog Posts:
Use Caution in Post-Divorce Dating