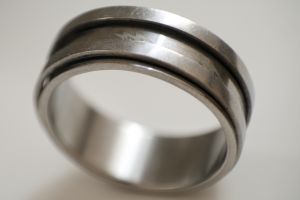 According to an odd story in the New York Times, the concept of "divorce rings" is starting to gain appeal among a certain set. What is a divorce ring you may ask? Imagine a man bent on one knee, gazing up at surprised woman. He removes a jewelry box from his jacket and hands her a diamond ring in the shape of a broken heart. "Honey, will you divorce me?"
This bizarre scenario may not be as crazy as it seems. Alice Kwartler Antiques is now selling an 18-karat gold and diamond "divorce ring," complete with a solitaire and jagged broken heart. At $3,200, the ring might cost more than a lot of people's wedding bands. Rather than symbolizing eternal love, this one is meant to signify that things didn't work out.
Using rings as a symbol of marital status can be traced back to ancient times. In the modern era, there are three marital statuses: single, married, and divorced. The idea of a "divorce ring" is just another way to signal a shift in a person's life. The breakup ring would quickly let people know that a marriage is over, just as a wedding ring says that you're taken. The ring can help avoid tiresome conversations with people about the status of your relationship and serves as a warning sign to newcomers.
Rather than wait to receive such a ring, others might decide to purchase one for themselves as a symbol of surviving the pain of the divorce process. There's a spirit of starting over, or renewal in the rings and buyers have been known to throw themselves divorce parties or splurge on "divorcemoons."

While these aren't that common yet, they do pop up every now and again. A North Carolina jeweler who has been divorced twice and lives in Wilmington, Harold Thompson, is a founder of the D Jewelry Company, which sells divorce rings online. Its tag line: "Building self-esteem one person at a time." Thompson's rings, which resemble traditional wedding bands except for a gap in the center, sell for $200 to $500. They have a "dual purpose," according to the company's Web site, not only as "attractive jewelry," but also as "a healing tool for broken hearts."
If you find yourself facing the prospect of divorce, it is best to contact an experienced alimony lawyer in Charlotte, North Carolina who can help guide you through the confusing process.
See Our Related Blog Posts:
Name Change Following Marriage Still a Sensitive Subject
Charlotte, North Carolina Divorcing Couples Should Beware of Snooping Spouses