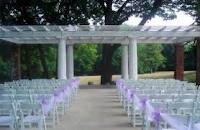 According to a recent article by the Associated Press, couples are becoming increasingly less likely to tie the knot. One recently single woman described what is the both the benefit and the burden of cohabitation: "You start to see how people handle confrontation, financial realities, challenges, the housework load. If we had been married we would have been divorced, or fully on our way."
Heading into 2012, barely half of all adults in the United States are married, and the median age at the time of a first marriage has never been higher – a hair over 26-years-old for women and nearly 29 for men.
By way of comparison, in 1960, the number of adults married was dramatically higher, a full 72 percent. By the year 2000, that number had fallen to 57 percent and today is only slightly higher than half at 51 percent, according to the Pew Research Center.
Experts believe the percentage of married adults could dip below 50 percent for the first time in a matter of a few years as the number of younger couples and single parents continues to grow. From just 2009 to 2010 the number of new marriages in the U.S. fell steeply, by 5 percent. While this drop may be partially attributed to the economy, the larger trend still holds true, fewer people are walking down the aisle.
Though the decline in marriage rates is widespread, it is especially prevalent among young adults. Nearly three out of every five people between 18 and 29 were married in 1960. Today it's one in five.
Another dramatic marriage statistic relates to education levels. According to Pew Research, nearly two-thirds of all adults with college degrees, or 64 percent, are married, compared with only 47 percent of those with high school degrees or less. In 1960, college grads and those who had not gone beyond high school were equally likely to be married.
Race also impacts the likelihood of tying the knot. Pew found that 55 percent of whites are married compared to 48 percent of Hispanics and only 31 percent of blacks.
Though marriage may be down, it's too early to count it out. Stephanie Coontz, who wrote "Marriage: A History" and teaches family studies at Evergreen State University said that she thinks "marriage is perceived as a very desirable good but no longer a necessity." Backing this thought up another Pew survey found that while nearly 40 percent of respondents said marriage is becoming obsolete, 61 percent of those who were not married would like to be someday.

If you're in the midst of dealing with problems related to a divorce, you need to contact an experienced Charlotte family law attorney who can guide you through the tumultuous process.
See Our Related Blog Posts:
Equitable Distribution of Virtual Assets?