Charlotte Divorce Attorney Matthew R. Arnold of Arnold & Smith, PLLC answers the question " I'm not getting along with my husband. We've been married two weeks and it was a mistake. Can't I just get an annulment?"
A father's gesture at his daughter's wedding is tugging at the heartstrings of millions worldwide, but has especially resonated with those affected by divorce.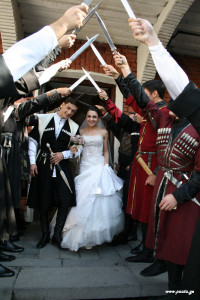 Last month, Brittany Peck was married in Elyria, Ohio.  Just before Peck walked down the aisle, her biological father, Todd Bachman, grabbed the hand of her stepfather, Todd Centrosky, so that the two of them could walk her down the aisle together.
The gesture caught Centrosky completely by surprise.  "Every time we tried on tuxes, or did some planning, it crossed my mind that I'd be sitting in the crowd, not walking her down the aisle," Centrosky told WKYC-TV.  "From day one, I looked at [Peck] as my daughter, but I knew that was [Bachman's] given right [to walk Peck down the aisle] being the birthing father."
The wedding photographer, Delia Blackburn, captured the beautiful moment.  In the photograph, Bachman is shown leading Centrosky towards their daughter while Centrosky weeps in the background.  According to Blackburn, there was not a dry eye at the ceremony.  As of October 8th, the photograph has garnered over 64 million views.
It was a moment that Peck never thought would happen.  In a recent interview, Bachman admitted that he and his ex-wife went through a rough divorce and custody battle, and that Peck was often squarely in the middle of it.  However, the two sides are now on cordial terms.
Bachman felt that grabbing Centrosky's hand and allowing him to share that special moment was the only way to show him how much he was appreciated.  "For me to thank him for all the years of helping raise OUR daughter wouldn't be enough.  There is no better way to thank somebody than to assist me walking her down the aisle," Bachman said.
In response, Centrosky called the gesture "the kindest gesture that anybody has ever set forth for me," and "the most impactful moment in my life."
Unfortunately, too many parents refuse to set aside their egos after going through a divorce.  Barbara Aaron, a divorce lawyer in Connecticut, said, "All parents say they would do anything for the kids, but all too often they are unable to get past their own pain and selfishness and they force the children to choose [between the two sides]."
According to a nationwide Pew Research Center survey, more than 4 in 10 American adults have at least one step-relative family member—either a stepparent, a step or half-sibling, or a stepchild.  Bachman's touching gesture demonstrates how parents in blended families should handle divorce.  Parents should make every effort to get along without the bitterness and hostility that is so often associated with divorce.  After having kids, parents are forever connected.  No divorce is ever going to change that.
Having both Bachman and Centrosky by her side meant the world to Peck, and she is praying that her little sister can experience that same feeling on her wedding day.  Unfortunately, Centrosky recently received a diagnosis of ankylosing spondylitis, which causes loss of mobility in the spine, along with Crohn's disease and lupus, and that illness may confine him to a wheelchair in the near future.  However, with both families working together, there is no doubt that a special role will be carved out for Centrosky in that wedding as well.
If you find yourself facing a complicated family law matter, then you need the help of experienced family-law attorneys in Charlotte, North Carolina who can help guide you through the often confusing process of divorce. Please contact Arnold & Smith, PLLC today at (704) 370-2828 or find additional resources here.
About the Author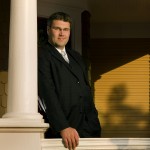 Matthew Arnold is a Managing Member of Arnold & Smith, PLLC, where he focuses on the areas of family law, divorce, child custody, child support, alimony and equitable distribution.
Mr. Arnold was raised in Charlotte, where he graduated from Providence Senior High School. He attended Belmont Abbey College, where he graduated cum laude, before attending law school at the University of North Carolina at Chapel Hill on a full academic scholarship.
A certified Family-Law Specialist, Mr. Arnold is admitted to practice in all state and administrative courts in North Carolina, before the United States District Court for the Western District of North Carolina, and before the Fourth Circuit Court of Appeals in Richmond, Virginia.
In his free time, Mr. Arnold enjoys golfing and spending time with his wife and three children.
Source:
http://www.usatoday.com/story/news/nation-now/2015/09/29/father-bride-asks-stepdad-walk-down-aisle-them/73020470/
http://www.today.com/parents/dad-surprises-stepdad-daughters-wedding-both-walking-bride-down-aisle-t46981
http://www.nytimes.com/2015/10/11/fashion/weddings/daughters-wedding-stepdad-bachman-stepfather-father-peck.html?_r=0
Image Credit:
By Paata Vardanashvili from Tbilisi, Georgia (wedding  Uploaded by Kober) [CC BY 2.0 (http://creativecommons.org/licenses/by/2.0)], via Wikimedia Commons
https://upload.wikimedia.org/wikipedia/commons/7/7f/Costumed_wedding_party_in_Georgia.jpg
See Our Related Video from our YouTube channel:
https://www.youtube.com/user/ArnoldSmithPLLC?feature=watch
See Our Related Blog Posts: