Board Certified Family Law Specialist Matt Arnold answers the question: "Can you guarantee I will get the resolution I want?"
Resolving Divorce Disputes
The decision to end your marriage is likely one of the hardest choices you will ever make. When two people wed, they do not believe that their union will end. However, up to half of all marriages will end in separation or divorce. Unfortunately, when a marriage comes to an end there may be quite a bit of contention. Nonetheless, couples need to try to make important decisions regarding the settlement terms of their divorce. An experienced divorce attorney will assist you through the process to make it easier and less stressful.  
 Divorce Settlement Agreement
A North Carolina settlement agreement is a legal contract between spouses regarding the many terms of their divorce. Uncoupling is not always easy, but couples must work toward a goal of agreement to the terms of settlement. In North Carolina divorce, marital assets should be distributed in an equitable manner. In addition to financial concerns, couples must also consider child custody and visitation. All too often, a couple finds themselves involved in a dispute over the many issues of their divorce. When this happens, it can stall the divorce and make it more difficult and costly to resolve. 
Alternative Dispute Resolution
Alternative dispute resolution (ADR) is a method that couples can utilize to resolve divorce issues outside of court. There are several types of ADR that you may engage in to provide help with coming to an agreement with your spouse. The three main methods of ADR include mediation, collaboration, and arbitration. 
Mediation

– This method of ADR utilizes assistance from a qualified mediator. A mediator is a trained professional who facilitates negotiations between parties involved in disagreements. A mediator is an objective person who does not side with either individual. 

Collaboration

– Collaboration is a method similar to mediation where the couples are assisted by qualified attorneys. The attorneys have training, knowledge, and experience helping to assist couples through difficult dispute resolutions. 

Arbitration

– In arbitration, both parties agree to allow a third party to act as a judge in their case. They use the same types of conflict resolution options as a court, however, the process is somewhat less formal.
Benefits of Alternative Dispute Resolution
Sometimes, couples can get caught up in their divorce settlement and the divorce can become more contentious. ADR allows couples to try to resolve matters before they get too out of hand. The use of ADR can help make the divorce process shorter because otherwise, it can take months to agree to various settlement terms. Couples can shorten the divorce process and thus reduce costly expenditures. A faster settlement can be advantageous to you and your family and help to make the transition to divorce less stressful. A faster and easier resolution can facilitate a more harmonious relationship moving forward. 
Divorce disputes are likely to arise in even the most agreeable situations. When disagreements happen, it is best to try to take care of them as quickly as possible. Your attorney will assist in getting resolution to your disagreements. Please contact us today to get a phone, video or in-person consultation by calling at (704) 370-2828 to speak with our detail-oriented and well-versed lawyers with offices in Charlotte, Lake Norman, and Monroe, please contact Arnold & Smith, PLLC today or find additional resources here.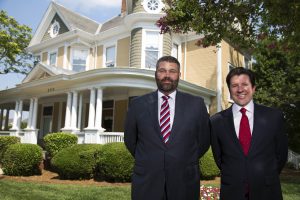 The family law practice group at Arnold & Smith, PLLC includes four Board-Certified Family Law specialists and one Child Welfare Law specialist, as well as several attorneys with many years of family law experience that are committed to providing a powerful voice to individuals facing the often-tumultuous issues in this area of law. The range of issues our family law clients may be facing include pre- and post-nuptial agreements; separation agreements; post-separation support; child support (both temporary and permanent); absolute divorce; divorce from bed and board; military divorce; equitable distribution of assets; child custody (both temporary and permanent); retirement benefits and divorce; alimony and spousal support; adoption; and emancipation. Because this area of the law is usually emotionally charged and complicated, the family law attorneys at Arnold & Smith, PLLC act with the utmost dedication to ensure that each client understands his or her options, and then act to achieve the best result possible for that client's particular situation.
Source:
alternative dispute resolution | Wex | US Law | LII / Legal Information Institute (cornell.edu)
Image Credit: 
See Our Related Video from our YouTube channel:
Arnold & Smith, PLLC – YouTube
See Our Related Blog Posts: