Board Certified Family Law Specialist Matt Arnold answers the question: "How much does it cost to get divorced, and how does the billing process work?"
When you and your spouse decide to end your marriage, you may both agree that there is no way to save the union. In North Carolina, absolute divorce is the way to legally end your marriage. A divorce is uncontested when parties agree to the divorce and to the terms of the settlement. An uncontested divorce is likely the fastest track to seeking the legal end of your marriage. An experienced North Carolina divorce attorney will help guide the process and help you get through the divorce with as little stress as possible.
Guidelines for Seeking An Uncontested Divorce
In North Carolina, you and your spouse can request an absolute divorce due to irreconcilable differences. This is called a no-fault divorce. Neither party places blame on the other, and both agree that the marriage is over and cannot be saved. To obtain an uncontested absolute divorce, you must meet specific criteria. At least one party must have resided in North Carolina for at least six months immediately prior to seeking a divorce. Spouses must live separately for a period of a year before the divorce. Both parties agree to the division of property and whether spousal support will be needed. Under these conditions, the court will not have to make these decisions.
Benefits of an Uncontested Divorce
An uncontested divorce offers the easiest way to end a marriage in North Carolina. That is because both spouses have discussed the distribution of assets and other terms of separation and have come to an agreement. This makes the court process easier and more straightforward. An uncontested divorce will be faster than a divorce where parties do not agree to a marital settlement agreement. In addition to ending the marriage more quickly, you will also likely have a less costly divorce. When parties are able to communicate, they will not need the many meetings and discussions between lawyers that can be costly. An uncontested divorce also allows you and your spouse to have an amicable parting of ways, making the situation less stressful.
How an Attorney Will Help with an Uncontested Divorce
While you are not required to have an attorney, it can be extremely beneficial. In fact, a lawyer can help facilitate an uncontested divorce by guiding the process from the first stages. Certainly, divorce can be easier for couples who have not been married very long or who do not own a lot of assets together. Still, an uncontested divorce can be achieved, even for those who have a large number of assets. It is important to realize that a divorce is a legal contract, and once the judge signs off, both parties must abide by it. Therefore, you need to make sure that you are completely comfortable and aware of the settlement terms and how they will impact your life.
If you are considering starting the divorce process, it makes sense to consult with a knowledgeable attorney. Your lawyer will answer your questions and will make sure that your interests are protected throughout the process. Get a phone, video or in-person consultation by calling at (704) 370-2828 to speak with our detail-oriented and well-versed lawyers with offices in Charlotte, Lake Norman, and Monroe, please contact Arnold & Smith, PLLC today or find additional resources here.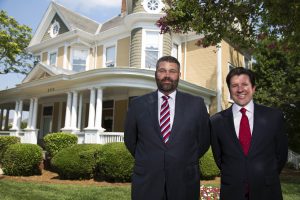 The family law practice group at Arnold & Smith, PLLC includes four Board-Certified Family Law specialists and one Child Welfare Law specialist, as well as several attorneys with many years of family law experience that are committed to providing a powerful voice to individuals facing the often-tumultuous issues in this area of law. The range of issues our family law clients may be facing include pre- and post-nuptial agreements; separation agreements; post-separation support; child support (both temporary and permanent); absolute divorce; divorce from bed and board; military divorce; equitable distribution of assets; child custody (both temporary and permanent); retirement benefits and divorce; alimony and spousal support; adoption; and emancipation. Because this area of the law is usually emotionally charged and complicated, the family law attorneys at Arnold & Smith, PLLC act with the utmost dedication to ensure that each client understands his or her options, and then act to achieve the best result possible for that client's particular situation.
Source:
Separation and Divorce | North Carolina Judicial Branch (nccourts.gov)
Image Credit:
https://www.freeimages.com/photo/engagement-1329853
See Our Related Video from our YouTube channel:
https://www.youtube.com/c/Arnoldsmithlaw
See Our Related Blog Posts: