Board Certified Family Law Specialist Matt Arnold answers the question: "How much does it cost to get divorced, and how does the billing process work?"
While a divorce is a great opportunity to start your life with a clean slate, there are certain things you can do that could hurt your credit score. After all, divorcing couples have to split not only their shared assets and property, but also their shared debt. We have prepared five tips to manage your joint debt and protect your credit score during a divorce in North Carolina.
Include Specific Provisions in Your Divorce Agreement
Since creditors or debt collectors are not a party to your divorce agreement, they are likely to continue bothering you with calls and threats to pay off a debt. For this reason, when one spouse falls behind on their share of shared debt, their former spouse's credit score could be negatively affected, too.
In order to prevent this, your divorce attorney should clearly specify in the divorce agreement that one spouse is not responsible for their former spouse's failure to pay off their share of the joint debt.
Do Not Settle for More Than Fair Share of Marital Debt
Under North Carolina's family law, marital debt and assets are split between divorcing spouses on an equitable basis. Equitable does not necessarily mean equal. Therefore, it is vital to approach the division of assets and debt with the help of an experienced asset distribution attorney.
Typically, the spouse who receives a larger portion of shared assets will be ordered to pay more than half of the marital debt. Do not accept more than your equitably divided share of the shared debt.
Typically, assets and debts that were acquired after the date of separation will not be considered for distribution purposes.
Close All of Your Joint Accounts
You should close all of your joint accounts immediately after your separation, even before you file for divorce. By maintaining a shared account with your spouse after the separation, you are maintaining a financial relationship. Thus, if any debt is acquired after the date of separation through a joint account, it can be difficult to determine who took on debt and who should be responsible for paying that debt off.
Begin Building Your Own Credit Score
Typically, the credit histories of the two spouses are interconnected. Thus, when spouses get a divorce, their own credit score enters a new chapter. In order to provide you with your own credit score, creditors will have to monitor a track record of your separate debt following the divorce.
You can begin building your credit score after a divorce by getting a credit card. Use the credit card to pay for items that are not too costly, and then pay it back right away.
Continue to Monitor Your Bills and Credit Reports
Even after closing all of your joint accounts, it may be a good idea to keep monitoring your bills and credit reports. There is a slight chance that your former spouse could still have access to one of your financial accounts or something may have gone unaccounted for and continues to be unresolved.
Protecting your credit score following a divorce is very important, especially if you and your spouse acquired joint debt during the marriage. Consult with a skilled divorce attorney in North Carolina to discuss your situation. Contact our lawyers at Arnold & Smith, PLLC, if you are looking for efficient divorce representation. Get a phone or video consultation by calling at (704) 370-2828 to speak with our detail-oriented and well-versed lawyers with offices in Charlotte, Lake Norman, and Monroe, please contact Arnold & Smith, PLLC today or find additional resources here.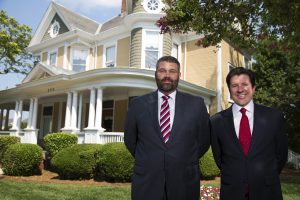 The family law practice group at Arnold & Smith, PLLC includes two Board-Certified Family Law specialists and one Child Welfare Law specialist, as well as several attorneys with many years of family law experience that are committed to providing a powerful voice to individuals facing the often-tumultuous issues in this area of law. The range of issues our family law clients may be facing include pre- and post-nuptial agreements; separation agreements; post-separation support; child support (both temporary and permanent); absolute divorce; divorce from bed and board; military divorce; equitable distribution of assets; child custody (both temporary and permanent); retirement benefits and divorce; alimony and spousal support; adoption; and emancipation. Because this area of the law is usually emotionally charged and complicated, the family law attorneys at Arnold & Smith, PLLC act with the utmost dedication to ensure that each client understands his or her options, and then act to achieve the best result possible for that client's particular situation.
Source:
Image Credit:
https://www.freeimages.com/photo/accounting-calculator-tax-return-taxes-1241513
See Our Related Video from our YouTube channel:
https://www.youtube.com/user/ArnoldSmithPLLC?feature=watch
See Our Related Blog Posts: