Board Certified Family Law Specialist Matt Arnold answers the question: "Does adultery affect my divorce case?"
North Carolina's family law allows spouses to obtain a legal separation by asking the court for what is known as a divorce from bed and board. While this type of "divorce" does not end your marriage, it has a significant impact on the rights you and your husband/wife have.
Who Can Request a Divorce from Bed and Board and When?
Generally, North Carolina law recognizes six grounds for a divorce from bed and board. To obtain this type of divorce in Charlotte or other parts of the state, the "injured" spouse must show that the other spouse has committed a marital fault.
To qualify for a divorce from bed and board in North Carolina, you must demonstrate evidence of any of these six types of fault on the part of your spouse:
Malicious turning out-of-doors
Abandonment of the family
Cruel or barbarous treatment to the point that it endangers your life
Excessive use of drugs or alcohol making his or her condition intolerable or your life burdensome
Indignities that make your life burdensome or the spouse's condition intolerable
How Will a Divorce From Bed and Board Affect Your Marital Rights?
In North Carolina, a decree of divorce from bed and board has a tremendous effect on the rights of the spouse who committed a marital fault. By obtaining this type of divorce, your spouse will lose all of the following marital rights:
Cohabitation. If you obtained a divorce from bed and board, your spouse would no longer have the right to cohabitation. Nonetheless, the prevailing spouse may still be awarded the marital residence in property distribution.
Intestate succession. Your spouse will lose the right to inherit from you unless your will says otherwise.
Petition for an elective share. A divorce from bed and board extinguishes your spouse's right to petition the court for an elective share of your estate.
Homestead. Also, the losing spouse will lose his or her right to a homestead in the prevailing spouse's property.
Dissent. If you have a will, your spouse no longer has the right to dissent from your will.
Administer your estate. A divorce from bed and board results in the accused spouse's loss of the right to administer the prevailing spouse's estate.
By obtaining a divorce from bed and board, the prevailing spouse retains many of her or his rights in North Carolina. These rights include:
The right to sell the marital property – both real and personal – without the other spouse's consent
The right to inherit from the losing spouse
The right to take an elective share in the other spouse's estate
The right to claim homestead rights
The right to dissent from the losing spouse's will
The right to a year's allowance in the other party's personal property
Meanwhile, a divorce from bed and board has no effect on certain other marital rights, such as property rights, child custody, and child support. If you are considering requesting a divorce from bed and board in Charlotte or other parts of North Carolina but are unaware of the potential consequences, speak with our detail-oriented and well-versed lawyers in or around Charlotte, Lake Norman, or at our new office in Monroe, please contact Arnold & Smith, PLLC today at (704) 370-2828 or find additional resources here.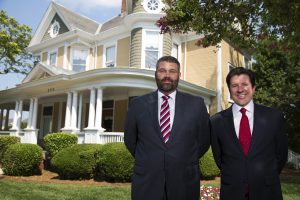 The family law practice group at Arnold & Smith, PLLC includes two Board-Certified Family Law specialists and one Child Welfare Law specialist, as well as several attorneys with many years of family law experience that are committed to providing a powerful voice to individuals facing the often-tumultuous issues in this area of law. The range of issues our family law clients may be facing include pre- and post-nuptial agreements; separation agreements; post-separation support; child support (both temporary and permanent); absolute divorce; divorce from bed and board; military divorce; equitable distribution of assets; child custody (both temporary and permanent); retirement benefits and divorce; alimony and spousal support; adoption; and emancipation. Because this area of the law is usually emotionally charged and complicated, the family law attorneys at Arnold & Smith, PLLC act with the utmost dedication to ensure that each client understands his or her options, and then act to achieve the best result possible for that client's particular situation.
Source:
Image Credit:
https://www.freeimages.com/photo/basement-bedroom-1226009
See Our Related Video from our YouTube channel:
https://www.youtube.com/user/ArnoldSmithPLLC?feature=watch
See Our Related Blog Posts: