Board Certified Family Law Specialist Matt Arnold answers the question: " Is there some property that the judge cannot divide?"
If you are considering a legal separation in Charlotte or other parts of North Carolina, you probably have many questions on your mind. The most reasonable questions to ask are, "Do I need a separation agreement?" and "Do I need a Charlotte divorce attorney to draft the agreement, or are there other ways to negotiate and prepare this document?"
Are Separation Agreements Required by North Carolina Law?
In the state of North Carolina, you do not have to enter into a separation agreement to be legally separated from your spouse. Even though separation agreements are not mandatory in North Carolina, do keep in mind that you will be married to your spouse for approximately a year until your divorce is finalized.
That is why it is recommended to draft a separation agreement to settle various aspects of your divorce privately and outside of the court system. Such aspects include child support, debts, real estate, division of property and assets, spousal support claims, and others.
Any verbal agreements that you and your spouse make are not enforceable under the laws of North Carolina. Separation agreements, on the other hand, that are in writing and were prepared by a skilled attorney are legally binding contracts.
What are Separation Agreements for?
Separation agreements are signed between two separated spouses. This is a contract in which they address such issues as the payment of financial support, the division of property, the custody schedule, and visitation for their children, among others.
More often than not, spouses draft a separation agreement at the same time they separate or shortly before their separation. In some cases, however, spouses decide to sign a separation agreement weeks or months after calling it quits.
In fact, divorcing spouses in North Carolina do not need a separation agreement to get a divorce. The agreement is not evidence that must be used in the divorce proceedings unless both parties agree to incorporate it into the final judgment.
To ensure the validity of your separation agreement, it is best to have a Charlotte divorce attorney draft and prepare the legally binding contract for you and your spouse. The agreement must be signed by both spouses in front of a notary.
Can You Divide Property Through a Separation Agreement?
Yes, you can. However, you need to understand that your separation agreement will be technically considered a "property settlement" if you choose to divide property in a legal document.
Types of property that you can divide in your separation agreement include your marital residence, automobiles, businesses, jewelry, bank accounts, financial assets, life insurance, and even furniture, among other things.
Can You Force Your Spouse to Sign a Separation Agreement?
Absolutely not. Separation agreements signed because either spouse was coerced, forced, or tricked into doing so will not be considered valid. The court will invalidate any agreement signed by a spouse who did not put their signature voluntarily and of her or his own free will.
What are the Penalties for Breaching a Separation Agreement?
Since a separation agreement is not a court order, you cannot hold your spouse in contempt of court for breaching the terms of your agreement. Instead, you would need to sue your soon-to-be former spouse for breach of contract, though the compensation would be limited to money damages and specific performance.
Speak with a Charlotte divorce attorney if you are considering drafting a separation agreement before your divorce is finalized. Contact our attorneys at Arnold & Smith, PLLC, to discuss your options and ensure that your contract is enforceable in a court of law. Call 704-370-2828 today for a confidential consultation. If you find yourself facing a complicated family law matter and need the help of experienced family-law attorneys, speak with our detail-oriented and well-versed lawyers in or around Charlotte, Lake Norman, or at our new office in Monroe, please contact Arnold & Smith, PLLC today at (704) 370-2828 or find additional resources here.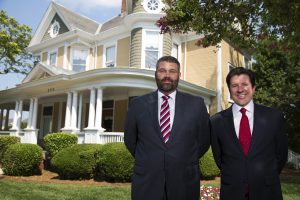 The family law practice group at Arnold & Smith, PLLC includes two Board-Certified Family Law specialists and one Child Welfare Law specialist, as well as several attorneys with many years of family law experience that are committed to providing a powerful voice to individuals facing the often-tumultuous issues in this area of law. The range of issues our family law clients may be facing include pre- and post-nuptial agreements; separation agreements; post-separation support; child support (both temporary and permanent); absolute divorce; divorce from bed and board; military divorce; equitable distribution of assets; child custody (both temporary and permanent); retirement benefits and divorce; alimony and spousal support; adoption; and emancipation. Because this area of the law is usually emotionally charged and complicated, the family law attorneys at Arnold & Smith, PLLC act with the utmost dedication to ensure that each client understands his or her options, and then act to achieve the best result possible for that client's particular situation.
Source:
Image Credit:
https://www.freeimages.com/photo/signing-the-contract-1512122
See Our Related Video from our YouTube channel:
https://www.youtube.com/user/ArnoldSmithPLLC?feature=watch
See Our Related Blog Posts: