Board Certified Family Law Specialist Matt Arnold answers the question: "Can I keep my Kids from seeing the other parent?"
Yes, your holidays may become a little disorderly and complicated if you are a newly divorced parent, but that does not mean that you cannot enjoy Christmas and New Year's Eve if you share children with your ex-spouse.
Luckily, there are holiday visitation schedules that can ease the tensions between both parents, though there is no universal time-sharing and parenting plan that would work for all divorced parents. You need a Charlotte child custody attorney to help you and your former spouse come to an agreement regarding the unique holiday visitation schedule that would be applicable in your particular circumstances.
Three Possible Parenting Plans for Your Holiday Schedule
If you are trying to establish a holiday schedule, you need to know that there are three parenting plans to choose from:
No particular holiday visitation schedule is applicable, as both parents have to abide by the regular time-sharing schedule during the holiday season.
Both parents agree to some form of holiday visitation schedule without any formal plan.
The parents sign a formal and specific holiday schedule with defined start and end times for visitation and time-sharing.
Generally, the third option is the most optimal parenting plan though it might seem more problematic and challenging that the first two, both of which are more suitable for those who prefer the Collaborative Divorce process. If you opt for the first option, there is no guarantee that you will have time with your child during a particular holiday in a given year.
The issue with the second option is that it may be impossible to reach a consensus regarding the holiday schedule if you do not get along with the other parent or either party refuses to compromise or wants more time with the children.
Winter Holidays and Your Parenting Plan in North Carolina
Every parent wants to spend winter holidays – Christmas and New Year's Eve – with their child. Typically, divorced parents have two options when it comes to creating a parenting plan for the winter holidays.
The first option is to split the winter break into two equal parts. As a result, one parent would have the child for the first half, while the other parent would have the kids during the second half. In that case, parents would then alternate which one of them gets the first half each year.
For example, one parent may have the children during the first half of winter break in odd years. Therefore, the kids would spend the first half of winter breaks with the other parent in even years.
The second option is to split the winter holidays into two parts. For example, in odd years, one parent gets Christmas morning while the other gets Christmas dinner. In rare cases where both parents get along well, they may be able to spend time with their children on Christmas and New Year's Eve together under the same roof.
However, if you are like the vast majority of divorced parents in the U.S., and you find it rather challenging to come to an agreement when negotiating with the other parent, then you should speak with a Charlotte child custody attorney to create a mutually beneficial and fair parenting plan for the holidays. Contact our family law lawyers at Arnold & Smith, PLLC, to review your options. Call at 704-370-2828 for a confidential consultation. If you find yourself facing a complicated family law matter and need the help of experienced family-law attorneys, speak with our detail-oriented and well-versed lawyers in or around Charlotte, Lake Norman, or at our new office in Monroe, please contact Arnold & Smith, PLLC today at (704) 370-2828 or find additional resources here.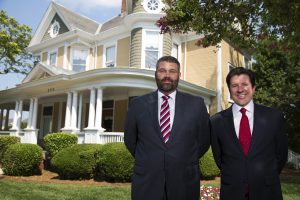 The family law practice group at Arnold & Smith, PLLC includes two Board-Certified Family Law specialists and one Child Welfare Law specialist, as well as several attorneys with many years of family law experience that are committed to providing a powerful voice to individuals facing the often-tumultuous issues in this area of law. The range of issues our family law clients may be facing include pre- and post-nuptial agreements; separation agreements; post-separation support; child support (both temporary and permanent); absolute divorce; divorce from bed and board; military divorce; equitable distribution of assets; child custody (both temporary and permanent); retirement benefits and divorce; alimony and spousal support; adoption; and emancipation. Because this area of the law is usually emotionally charged and complicated, the family law attorneys at Arnold & Smith, PLLC act with the utmost dedication to ensure that each client understands his or her options, and then act to achieve the best result possible for that client's particular situation.
Source:
Image Credit:
https://www.freeimages.com/photo/holiday-house-001-1420481
See Our Related Video from our YouTube channel:
https://www.youtube.com/user/ArnoldSmithPLLC?feature=watch
See Our Related Blog Posts: