Board Certified Family Law Specialist Matt Arnold answers the question: "What rules are there for Father's Right in NC?"
When it comes to paternity, the law in North Carolina has been designed to favor married couples. Married couples benefit because when a child is born to a married couple, the husband and wife are automatically viewed as being legal parents of the child. This can be a great thing in that it immediately bestows important rights and responsibilities on the couple, saving the hassle of having to establish paternity. The problem is that this can work against some couples, specifically, those where the child born during the marriage is not the biological child of the husband. In these cases, the father will have to fight a rather long battle to have the presumption of paternity reversed. To learn more about paternity and how it can prove problematic in certain custody/child support cases, keep reading.
In North Carolina, as in many states, a man married to a woman at the time she either conceives or gives birth is presumed to be the father of that child. Interestingly (though it clearly make sense), the presumption doesn't work in reverse. If a man gets someone else pregnant during the marriage, his wife is not presumed to be the mother of that child. Along with being presumed the father comes the costs and responsibilities of fatherhood. This means if you are the presumed father of a child and you and your wife divorce, you will be responsible for paying child support.
The presumption of paternity is known as a rebuttable presumption, meaning the law believes that it is true unless it is proven otherwise. In the case of paternity this means that the husband is assumed to be the father unless and until he has convinced a court with clear and convincing evidence that he is not. Though it's an uphill battle, the presumed father can put forward evidence to demonstrate that he is not the biological father of the child and thus should not be required to pay child support.
Though testimonial evidence can be put forward, as well as evidence that the man is unable to procreate or other clear racial or physical differences, the most convincing evidence to prove paternity is to have a DNA test done. Curiously, North Carolina law does not permit simply asking the mother of the child. A woman cannot just say that her former husband is not the father of a child who was born during their marriage. This can only happen if another man has already been deemed the child's biological father or if another man has acknowledged paternity by signing an affidavit.
It also matters whether a man acknowledged paternity. By acknowledge, the law means that a person held himself out to the world as the father and either stated publicly that he was or behaved as if he was. Even someone who is not biologically the father of a child can wind up in legal trouble if it turns out that the person did acknowledge paternity. One defense to acknowledging paternity is that you did so without knowing the truth that you were not the father. If a person acknowledged fatherhood despite knowing that he wasn't the father, the court may not let them change their mind down the road.
If you find yourself facing a complicated family law matter, then you need the help of experienced family-law attorneys in Charlotte, North Carolina who can help guide you through the often confusing process of divorce. Please contact Arnold & Smith, PLLC today at (704) 370-2828 or find additional resources here.
About the Author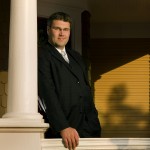 Matthew Arnold is a Managing Member of Arnold & Smith, PLLC, where he focuses on the areas of family law, divorce, child custody, child support, alimony and equitable distribution.
Mr. Arnold was raised in Charlotte, where he graduated from Providence Senior High School. He attended Belmont Abbey College, where he graduated cum laude, before attending law school at the University of North Carolina at Chapel Hill on a full academic scholarship.
A certified Family-Law Specialist, Mr. Arnold is admitted to practice in all state and administrative courts in North Carolina, before the United States District Court for the Western District of North Carolina, and before the Fourth Circuit Court of Appeals in Richmond, Virginia.
In his free time, Mr. Arnold enjoys golfing and spending time with his wife and three children.
Source:
http://civil.sog.unc.edu/legitimation-versus-paternity-whats-the-difference/
Image Credit:
http://www.freeimages.com/photo/the-master-s-slippers-1423081
See Our Related Video from our YouTube channel:
https://www.youtube.com/user/ArnoldSmithPLLC?feature=watch
See Our Related Blog Posts: