Board Certified Family Law Specialist Matt Arnold of Arnold & Smith, PLLC answers the question "Can any attorney help me with my family law needs in North Carolina?"
Edit: The Baltimore Ravens have just released Ray Rice from his contract and NFL commissioner Roger Goodell has announced Rice will be suspended indefinitely from the NFL.
American National Football League fans were treated to a slew of close victories and upsets on the opening weekend of the 2015 season. The Monday blues followed too close for the league's comfort on the heels of season openers.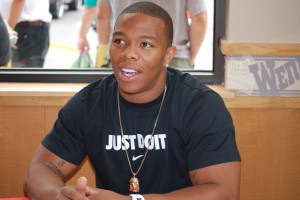 Earlier this year, video footage obtained by Burbank, California-based "Thirty-Mile Zone," also known as TMZ, showed Baltimore Ravens running back Ray Rice dragging his then-fiancé Janay Palmer out of an Atlantic City elevator. News reports referenced a video obtained by police that showed Rice hitting Palmer and knocking her unconscious in the elevator.
That second video was obtained by TMZ and released at 1:00 a.m. Monday morning while sports shows around the country were still broadcasting highlights from Sunday's round of games.
The incident occurred on Feb. 15 at the Revel Hotel and Casino. Evidently Rice and Palmer argued before entering an elevator carriage. New footage from inside the carriage shows Rice striking Palmer in the face. The blow causes Palmer to fall, striking her head against a handrail and apparently falling unconscious to the floor of the carriage.