Board Certified Family Law Specialist Matt Arnold answers the question: "How can an attorney help me with my Divorce or Separation in North Carolina?"
If you are worried about the welfare of a child, you could be able to file for emergency custody in North Carolina. In fact, under North Carolina, a petition for emergency custody can be filed by parents, grandparents, siblings, and other immediate family members.
However, before filing for emergency child custody in North Carolina, you need to understand the process of requesting this type of custody. Consult with a Charlotte family law attorney to determine if you can file for emergency custody in your particular situation.
When Do North Carolina Courts Grant Emergency Custody?
If a request for emergency custody is granted, the child is removed from the home to protect their safety and welfare. When granting emergency custody, a court terminates a parent's right to custody either temporarily or permanently.
However, North Carolina courts grant emergency custody under limited circumstances. Basically, the petitioner must prove that the child is in immediate danger and needs protection.
A petition for emergency custody can be granted when a child is at immediate risk of:
Sexual abuse;
Physical injury; or
Abduction
A North Carolina court may grant emergency custody when the child is at risk of being removed from the state for the purpose of evading a court or custody order.
However, custody disputes or disagreements over parental decisions may not be grounds for requesting emergency custody unless the dispute puts a child at immediate risk of injury, sexual abuse, or abduction.
How to File for Emergency Child Custody in North Carolina?
If the above-mentioned requirements are met, and your child is at risk of immediate harm, you can file for emergency child custody by submitting:
A complaint or motion;
A sworn statement outlining the urgency of the matter and the facts about the situation; and
You may also support your complaint with third-party statements (optional).
What Happens After I File a Petition for Emergency Custody?
Once you have submitted your motion (or complaint) and a sworn statement, they will be presented to the judge assigned to your case. When only one party (the petitioner) is present at the hearing, the action is called "ex parte."
Ex parte emergency custody petitions are taken very seriously by North Carolina courts because judges must make quick decisions without having the opportunity to hear both sides.
For this reason, you must provide truthful and credible information when filing a petition for emergency custody and presenting your case in front of a judge.
Do I Need an Attorney to File for Emergency Custody?
Yes, it is advisable to consult with a knowledgeable attorney to determine if you have grounds to file a petition for emergency custody. A skilled attorney will review your unique situation and advise you on your options.
In cases that are not considered emergencies, parties may choose to file a motion for a temporary parenting arrangement (TPA). Speak with our child custody attorneys at Arnold & Smith, PLLC, to discuss your situation and explore your options. Get a phone or video consultation by calling at (704) 370-2828 to speak with our detail-oriented and well-versed lawyers with offices in Charlotte, Lake Norman, and Monroe, please contact Arnold & Smith, PLLC today or find additional resources here.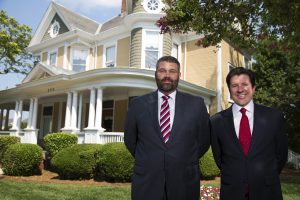 The family law practice group at Arnold & Smith, PLLC includes two Board-Certified Family Law specialists and one Child Welfare Law specialist, as well as several attorneys with many years of family law experience that are committed to providing a powerful voice to individuals facing the often-tumultuous issues in this area of law. The range of issues our family law clients may be facing include pre- and post-nuptial agreements; separation agreements; post-separation support; child support (both temporary and permanent); absolute divorce; divorce from bed and board; military divorce; equitable distribution of assets; child custody (both temporary and permanent); retirement benefits and divorce; alimony and spousal support; adoption; and emancipation. Because this area of the law is usually emotionally charged and complicated, the family law attorneys at Arnold & Smith, PLLC act with the utmost dedication to ensure that each client understands his or her options, and then act to achieve the best result possible for that client's particular situation.
Source:
https://www.arnoldsmithlaw.com/child-custody.html
Image Credit:
https://www.freeimages.com/photo/mother-and-child-1540712
See Our Related Video from our YouTube channel:
https://www.youtube.com/user/ArnoldSmithPLLC?feature=watch
See Our Related Blog Posts: