Board Certified Family Law Specialist Matt Arnold answers the question: "Can you guarantee I will get the resolution I want?"
If you and your spouse are capable of reasonable negotiations after deciding to end your marriage, mediation may be the best option to help you finalize your divorce faster and avoid a long, expensive, and adversarial trial process in North Carolina.
Is Mediation Right for You?
When spouses opt for mediation, they are required to hire a neutral, third-party mediator. Unlike a divorce attorney who fights for their client's interests, the mediator's job is to facilitate negotiation between the parties and help them resolve the issues. Instead of making decisions for you, the mediator merely suggests possible ways to resolve any contested issues in your divorce.
You can decide whether mediation is right for your particular situation by learning about the possible benefits of the process. As a rule of thumb, mediation makes sense when both spouses are willing to compromise and are capable of resolving their differences through negotiation.
In other words, mediation may not be right for you and your spouse if you are not on speaking terms.
Benefits of Mediation in North Carolina
If you want to end your marriage in North Carolina, mediation could be a better alternative to traditional divorce litigation for several reasons. Benefits of mediation include:
      Affordability: Typically, mediation is much more affordable than seeking a divorce through the court system. You can avoid many court fees if you are capable of resolving your divorce through mediation in North Carolina.
      Fairness: Unlike in traditional divorce litigation, couples who opt for mediation can decide how to settle their issues on their own. When filing a divorce case with the court, the judge will decide what is "fair" in his or her opinion. The divorced couple will have to live with the decision made by a complete stranger for the rest of their lives.
      Confidentiality: Spouses who want to get divorced through mediation enjoy confidentiality. By contrast, divorce cases handled through litigation are matters of public record. Also, anything discussed during mediation sessions cannot be used in court.
      Peacefulness: While traditional divorce litigation is associated with conflicts, disagreements, and stress, mediation can be a more peaceful and stress-free alternative. The ability to maintain a healthy and friendly relationship with your ex-spouse is critical if you share children together. Otherwise, you may end up creating unnecessary issues in your child custody case.
When Mediation May Not be Right for You
Mediation is not for everyone. There are cases in which mediation may not be a good option. Mediation might be counterproductive if you were subject to domestic violence or abuse during your marriage. Also, mediation may not work when you know for a fact that you and your spouse are unable to negotiate and find a middle ground.
If you are not sure whether mediation is right for your particular situation, it is advised to consult with a knowledgeable family law attorney in North Carolina. Our lawyers at Arnold & Smith, PLLC, will help you decide whether divorce mediation is the best option for you. Get a phone or video consultation by calling at (704) 370-2828 to speak with our detail-oriented and well-versed lawyers with offices in Charlotte, Lake Norman, and Monroe, please contact Arnold & Smith, PLLC today or find additional resources here.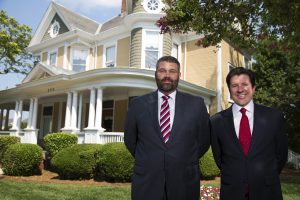 The family law practice group at Arnold & Smith, PLLC includes two Board-Certified Family Law specialists and one Child Welfare Law specialist, as well as several attorneys with many years of family law experience that are committed to providing a powerful voice to individuals facing the often-tumultuous issues in this area of law. The range of issues our family law clients may be facing include pre- and post-nuptial agreements; separation agreements; post-separation support; child support (both temporary and permanent); absolute divorce; divorce from bed and board; military divorce; equitable distribution of assets; child custody (both temporary and permanent); retirement benefits and divorce; alimony and spousal support; adoption; and emancipation. Because this area of the law is usually emotionally charged and complicated, the family law attorneys at Arnold & Smith, PLLC act with the utmost dedication to ensure that each client understands his or her options, and then act to achieve the best result possible for that client's particular situation.
Source:
Image Credit:
https://www.freeimages.com/photo/meditation-1187682
See Our Related Video from our YouTube channel:
https://www.youtube.com/user/ArnoldSmithPLLC?feature=watch
See Our Related Blog Posts: