Board Certified Family Law Specialist Matt Arnold answers the question: "What can I do to gain custody of my child in North Carolina?"
As the end of the COVID-19 pandemic is nowhere in sight, parents and children are required to navigate online schooling and distance learning. Adjusting to the new reality can be difficult and stressful for all parents, especially divorced parents who share child custody.
Co-parenting and distance learning can be tough when the child goes back and forth between two homes. So, how can divorced parents approach distance learning to ensure that everything goes smoothly?
Communication Between Co-Parents
The ability to communicate is an essential part of co-parenting, especially in the COVID-19 era, when everyone needs to adjust to distance learning. For most North Carolina families, distance learning is a new thing, which is why productive communication between co-parents is key to success when trying to navigate the new reality in the coronavirus era.
In order to make sure that distance learning works for everyone, both parents need to discuss the following things:
The district's plan for the year. Every district has its own plan for the school year. Both parents need to understand that plan and discuss how they can follow the plan. Also, both parents may need to speak with the child's teacher to discuss any special requirements for distance learning.
The child's preferences and needs. Since remote learning requires a high degree of discipline and self-motivation, it is vital to understand what works for your child. What works for one child may not work for the other, which is why you need to discuss and consider your child's preferences and needs when developing a plan.
It is vital for both parents to maintain regular and productive conversations about their child's progress in distance learning and address any issues that may arise throughout the process.
Stick to One Routine
When it comes to adjusting to distance learning, it is important to maintain the same schedule. Obviously, the routine will be based primarily on the school's schedule, but both parents must ensure that their child follows a similar schedule in both homes. The routine can be established by developing a consistent routine for:
The times when the child wakes up and eats breakfast;
The times when the child has breaks; and
The times when the child does homework and goes out to get some fresh air.
Only a consistent routine that works for your child can help them learn at home effectively and without distractions.
Supervise Your Child
Supervision is always a critical part of sharing custody, but even more so when trying to adjust to distance learning. A parent who has custody is responsible for supervising the child's learning at home that day, which is why it is vital to re-evaluate your timesharing plan to ensure that you can effectively supervise your child's distance learning when it is your turn with the child.
Make Sure Your Child Stays Active
In the COVID-19 era, children are likely to be less physically active. It is particularly important to keep your child active when they are learning at home. Staying active and going outside is vital not only to reduce stress but also to perform better at school.
If you are a divorced parent trying to co-parent during the COVID-19 pandemic, make sure that your child stays active when distance-learning in both homes. If your child custody order does not work, it may be a good idea to modify the order. Speak with a Charlotte child custody attorney at Arnold & Smith, PLLC, to explore your options. Get a phone or video consultation by calling at (704) 370-2828 to speak with our detail-oriented and well-versed lawyers with offices in Charlotte, Lake Norman, and Monroe, please contact Arnold & Smith, PLLC today or find additional resources here.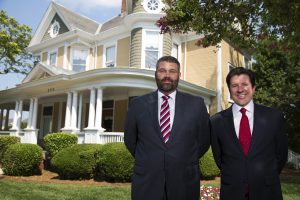 The family law practice group at Arnold & Smith, PLLC includes two Board-Certified Family Law specialists and one Child Welfare Law specialist, as well as several attorneys with many years of family law experience that are committed to providing a powerful voice to individuals facing the often-tumultuous issues in this area of law. The range of issues our family law clients may be facing include pre- and post-nuptial agreements; separation agreements; post-separation support; child support (both temporary and permanent); absolute divorce; divorce from bed and board; military divorce; equitable distribution of assets; child custody (both temporary and permanent); retirement benefits and divorce; alimony and spousal support; adoption; and emancipation. Because this area of the law is usually emotionally charged and complicated, the family law attorneys at Arnold & Smith, PLLC act with the utmost dedication to ensure that each client understands his or her options, and then act to achieve the best result possible for that client's particular situation.
Source:
https://www.arnoldsmithlaw.com/child-custody.html
Image Credit:
https://www.freeimages.com/photo/school-desks-1418686
See Our Related Video from our YouTube channel:
https://www.youtube.com/user/ArnoldSmithPLLC?feature=watch
See Our Related Blog Posts: