Board Certified Family Law Specialist Matt Arnold answers the question: "What are my custody rights if the other parent moves?"
If you are a foreigner married to a citizen of the United States, you may wonder whether divorce would affect your immigration status or green card. Will your North Carolina divorce affect your green card? The answer is, "It probably will," but it is advised to consult with an experienced family law attorney to discuss your unique situation.
Lifting Conditional Status When Married to an American Citizen
Under federal law, lawful permanent residents get a green card for two years. If a green card holder wants to stay in the United States on a permanent basis, they must file a petition with the U.S. Citizenship and Immigration Services (USCIS) asking them to lift their conditional status. The petition must be filed within 90 days of the expiration date of their visa (green card).
However, if a resident of a foreign country obtained a marriage-based green card, federal law requires the green card holder to wait two years from the date of the wedding before filing a petition with the USCIS to remove their conditional status. Immigration law requires a married foreigner to wait two years before petitioning USCIS if they were married to an American citizen for less than two years.
Also, the petition to lift a green card holder's conditional status must be filed jointly with their spouse, which is why a divorce filing could jeopardize your immigration status.
Exceptions to the Two-Year Waiting Period When Removing Conditional Status
U.S. courts recognize that green card holders who are in an abusive marriage should not tolerate abuse or other forms of marital misconduct in order to comply with the mandatory two-year waiting period.
A green card holder is exempt from the two-year waiting period requirement if they can prove that their spouse was abusive. Those who were abused by their spouses during a marriage must file a petition with USCIS when the court grants a divorce (instead of waiting to file a petition 90 days before their green card expires).
In fact, in some cases, the abused spouse may be able to have their conditional status lifted even before the court grants a divorce. This would require the abused immigrant to prove that their spouse abused them.
However, in order to qualify for early removal of the conditional status, you must be able to prove that your marriage is valid under federal law. U.S. courts do not tolerate fake marriages, also referred to as sham marriages.
A sham marriage is defined as any marriage in which the parties agreed to enter into marriage for the sole purpose of a foreign spouse becoming a permanent resident. Thus, if immigration officials have reason to believe that you got married solely for the purpose of getting a green card, and you are unable to prove them wrong, your petition to remove your conditional status will be denied. In addition, your green card is likely to be revoked.
If you are a green card holder or immigrant who is considering a divorce in North Carolina, do not file a petition before consulting with a knowledgeable divorce attorney in Charlotte. Do not jeopardize your green card and immigration status by attempting to understand the legal process on your own. Talk to our lawyers at Arnold & Smith, PLLC, to receive a consultation. Get a phone or video consultation by calling at (704) 370-2828 to speak with our detail-oriented and well-versed lawyers with offices in Charlotte, Lake Norman, and Monroe, please contact Arnold & Smith, PLLC today or find additional resources here.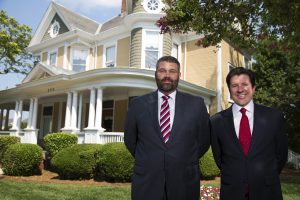 The family law practice group at Arnold & Smith, PLLC includes two Board-Certified Family Law specialists and one Child Welfare Law specialist, as well as several attorneys with many years of family law experience that are committed to providing a powerful voice to individuals facing the often-tumultuous issues in this area of law. The range of issues our family law clients may be facing include pre- and post-nuptial agreements; separation agreements; post-separation support; child support (both temporary and permanent); absolute divorce; divorce from bed and board; military divorce; equitable distribution of assets; child custody (both temporary and permanent); retirement benefits and divorce; alimony and spousal support; adoption; and emancipation. Because this area of the law is usually emotionally charged and complicated, the family law attorneys at Arnold & Smith, PLLC act with the utmost dedication to ensure that each client understands his or her options, and then act to achieve the best result possible for that client's particular situation.
Source:
https://www.arnoldsmithlaw.com/family-law-and-divorce.html
Image Credit:
https://www.freeimages.com/photo/passport-1-1526363
See Our Related Video from our YouTube channel:
https://www.youtube.com/user/ArnoldSmithPLLC?feature=watch
See Our Related Blog Posts: