Board Certified Family Law Specialist Matt Arnold answers the question: "Can I keep my Kids from seeing the other parent?"
A child born during a marriage is automatically considered an heir to both parties of the marriage. However, when a child is born to unmarried parents, the father should establish paternity (the unmarried mother is legally considered the parent).
If you have a son or daughter but were not married to the child's mother at the time of the childbirth, it is vital to establish paternity. Establishing paternity as an unmarried father is important to protect you and your child.
Five Reasons to Establish Paternity
Below, we will discuss the five reasons unmarried fathers can benefit from establishing paternity.
You have the right to request custody and visitation
If you are legally considered the parent of your child, you have a right to file for child custody and visitation. When the parents cannot come to an agreement regarding co-parenting, custody, and visitation, they have to take their case to court. The judge will issue a custody and visitation order based on the child's best interests.
However, just because you have successfully established paternity is no guarantee that you will be awarded custody or visitation rights.
You can make decisions for your child
Before your child turns 18, he/she will need parental permission to:
Apply for a driver's license
Enroll in school
Obtain a passport
However, if you are not the legal parent of your child, the child's mother can make these decisions without you.
Your medical history will be considered for your child's medical care
The medical histories of both parents are critical when it comes to diagnosing certain conditions in children. That is why it is essential to establish paternity so that your child's doctors can have access to your medical history. Your medical history may reveal the child's predisposition to diseases or conditions to enable the doctors to provide better medical care.
Your child will be eligible to receive your medical and life insurance benefits
When you establish paternity, your child should be able to qualify for your medical and life insurance. Your medical and life insurance coverage will cover your children if they qualify as dependents.
If the child's mother has primary physical custody rights, your medical and life insurance will likely be secondary to her own insurance to cover your child's needs.
Your child will be able to receive an inheritance
It would be much easier for your child to inherit your property and assets if you had paternity established. In addition, your child may not be able to receive your Social Security benefits after your death if you do not establish paternity.
While you can include your child in your Last Will and Testament as one of your beneficiaries to make sure that your assets are distributed to him/her upon your death, it is equally important to establish paternity to make the property distribution process more straightforward.
Contact a Charlotte Family Law Attorney
If you are considering establishing paternity as an unmarried father in North Carolina, contact an attorney to find out about the procedures and other requirements. Speak with our family lawyers at Arnold & Smith, PLLC. Get a phone, video or in-person consultation by calling at (704) 370-2828 to speak with our detail-oriented and well-versed lawyers with offices in Charlotte, Lake Norman, and Monroe, please contact Arnold & Smith, PLLC today or find additional resources here.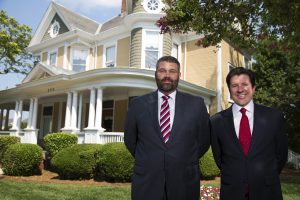 The family law practice group at Arnold & Smith, PLLC includes two Board-Certified Family Law specialists and one Child Welfare Law specialist, as well as several attorneys with many years of family law experience that are committed to providing a powerful voice to individuals facing the often-tumultuous issues in this area of law. The range of issues our family law clients may be facing include pre- and post-nuptial agreements; separation agreements; post-separation support; child support (both temporary and permanent); absolute divorce; divorce from bed and board; military divorce; equitable distribution of assets; child custody (both temporary and permanent); retirement benefits and divorce; alimony and spousal support; adoption; and emancipation. Because this area of the law is usually emotionally charged and complicated, the family law attorneys at Arnold & Smith, PLLC act with the utmost dedication to ensure that each client understands his or her options, and then act to achieve the best result possible for that client's particular situation.
Source:
https://www.arnoldsmithlaw.com/establishing-paternity-in-a-civil-action-regarding-children-born.html
Image Credit:
https://www.freeimages.com/photo/newborn-baby-2-1440639
See Our Related Video from our YouTube channel:
https://www.youtube.com/user/ArnoldSmithPLLC?feature=watch
See Our Related Blog Posts: