Board Certified Family Law Specialist Matt Arnold answers the question: " Are overtime, bonuses, and commissions included in calculating child support?"
Some of you – especially those paying or receiving child support in North Carolina – have probably heard the news that the ex-wife of the former NFL star, Micheal Strahan, raised her child support amount to $500,000 more just for their daughter's horse-riding classes.
The incredible story got many parents paying and receiving child support thinking, "Well, can I pull this off, too?" or "Can my former spouse pull this off?"
Luckily, we have a Charlotte family law attorney who can answer all your questions during a consultation. Contact Arnold & Smith, PLLC, to discuss your particular case. In the meantime, let's investigate the seemingly unrealistic story of how Micheal Strahan's ex-wife got the former NFL star to pay a stratospheric amount just for their daughter's horse-riding classes.
Strahan's Ex-Wife Requesting Increase in Child Support to Pay for Horse-Riding Classes
In most child support cases in North Carolina, the parent receiving child support payments from the payor can request $225,000 for health expenses or a child's education. But in the case of Strahan and his ex-wife, Jean Strahan, that amount went to pay for their daughter's horse-riding classes, according to The Innersane.
Although nearly everyone knows that horse-riding is not the cheapest hobby, does it mean that any parent receiving child support can increase the amount of these payments just to pay for a child's hobby?
That depends. Strahan's ex-wife has been pushing for the father of her child to pay more than $570,000. In her request to modify child support, Strahan's ex-wife claimed that she had paid $450,802 to teach their daughter horse-riding.
At the time of their divorce back in 2006, the former NFL star was ordered to pay $18,000 per month for child support. Three years later, the order was revised to under $13,000.
Strahan's former wife is also requesting to increase the child support amount to over $18,000 a month. She justified her request by claiming that the NFL star turned TV host could now afford it thanks to his new gig.
Modification of Child Support in North Carolina
Were those expensive horse-riding classes grounds for increasing child support? As long as the requestor can prove that the classes constitute an "educational reason," the request can be justified.
In North Carolina, a parent can modify child support when the child unexpectedly needs additional care for an education or medical reason, among other grounds. When this happens, the receiving parent can file a request to modify child support.
Modifications to child support seem straightforward and easy. After all, in theory, all you need is to file a form and appear in court. In reality, the process is complicated primarily if the requestor is not represented by a Charlotte family law attorney.
When attempting to modify child support in Charlotte or elsewhere in North Carolina, the requestor will have to:
Show proof of a substantial change in circumstances.
Confront the former spouse and his or her lawyer in court when proving that the request to modify child support is justifiable.
Wait for months for the court to approve or deny the case (in fact, child support modifications can last as long as the original child support case).
Due to these complications, it is advised to speak with a Charlotte family law attorney to navigate the legal complexities and help you in the child support modification process. Contact Arnold & Smith, PLLC, to determine whether you have grounds to request a modification. If you find yourself facing a complicated family law matter and need the help of experienced family-law attorneys, speak with our detail-oriented and well-versed lawyers in or around Charlotte, Lake Norman, or at our new office in Monroe, please contact Arnold & Smith, PLLC today at (704) 370-2828 or find additional resources here.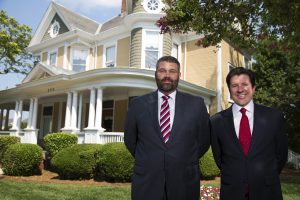 The family law practice group at Arnold & Smith, PLLC includes two Board-Certified Family Law specialists and one Child Welfare Law specialist, as well as several attorneys with many years of family law experience that are committed to providing a powerful voice to individuals facing the often-tumultuous issues in this area of law. The range of issues our family law clients may be facing include pre- and post-nuptial agreements; separation agreements; post-separation support; child support (both temporary and permanent); absolute divorce; divorce from bed and board; military divorce; equitable distribution of assets; child custody (both temporary and permanent); retirement benefits and divorce; alimony and spousal support; adoption; and emancipation. Because this area of the law is usually emotionally charged and complicated, the family law attorneys at Arnold & Smith, PLLC act with the utmost dedication to ensure that each client understands his or her options, and then act to achieve the best result possible for that client's particular situation.
Source:
https://theinnersane.com/2019/10/19/micheal-strahans-ex-wife-raised-her-child-support-amount-to-500k-more-just-for-daughters-horse-hiding-classes/
Image Credit:
https://www.freeimages.com/photo/football-3-1563787
See Our Related Video from our YouTube channel:
https://www.youtube.com/user/ArnoldSmithPLLC?feature=watch
See Our Related Blog Posts: