Board Certified Family Law Specialist Matt Arnold answers the question: "What does a "No-Fault' divorce mean in NC?"
If your marriage lasted less than a year, you might be wondering how to get a divorce in North Carolina. If you want to divorce, it is important to consult with a North Carolina family lawyer and discuss the divorce process for short-term marriages.
Can I Simply Annul My Short-Term Marriage?
If you have been married for less than a year and want to get divorced, you may wonder whether you can annul the marriage. However, you may not be able to get your marriage annulled simply because you have been married for less than a year.
Under N.C.G.S. § 51-3, there are several grounds for getting your marriage annulled in the state of North Carolina:
Incest
Bigamy
One or both spouses were underage
Impotence
Lack of consent
The mistaken belief of pregnancy
Mental illness
Speak with a knowledgeable divorce lawyer in North Carolina to determine whether you qualify for an annulment.
Do I Still Have to Wait 12 Months to Get a Divorce?
Yes, as long as you do not qualify for an annulment, you must wait 12 months to file for divorce regardless of whether your marriage lasted one month, six months, five years, or 30 years.
North Carolina's mandatory separation period requires the parties to live separately for a year before filing divorce papers. While waiting 12 months, the parties can work with a divorce attorney to create a separation agreement, which could be used as a foundation for the final divorce decree.
Can I Pursue a Simple Divorce?
Yes, pursuing a simple divorce (also known as an absolute divorce) may make sense for short-term marriage. Often, spouses who are getting divorced after less than a year of marriage do not have many disputed or complicated issues such as child custody, marital property, or joint debts.
For this reason, you could reduce the cost of your divorce by seeking a simple divorce. If you opt for a simple divorce for your short-term marriage, all you need to do after the separation period is have your divorce agreement signed and filed with the court.
Although an absolute divorce is known as a "simple" divorce, it is still advised to have a family lawyer on your side to protect your interests and ensure that the process goes smoothly.
Should I Try Mediation for My Divorce?
Absolutely. If there are any disputed issues when seeking a divorce after a short marriage, it may make sense to choose mediation over litigation. The traditional court process is costly and contentious and can take months or years to complete.
Also, the parties have less control over the outcome of their divorce case when taking their case to court. In divorce mediation, both parties will work with a neutral, third-party mediator whose job is to facilitate negotiations between the soon-to-be-ex-spouses and reach a consensus.
Speak with our divorce attorneys at Arnold & Smith, PLLC, in North Carolina to review your unique case and determine how to get a divorce after a short marriage. Get a phone or video consultation by calling at (704) 370-2828 to speak with our detail-oriented and well-versed lawyers with offices in Charlotte, Lake Norman, and Monroe, please contact Arnold & Smith, PLLC today or find additional resources here.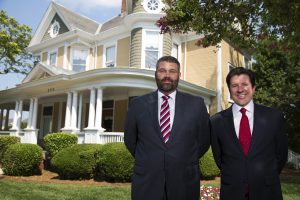 The family law practice group at Arnold & Smith, PLLC includes two Board-Certified Family Law specialists and one Child Welfare Law specialist, as well as several attorneys with many years of family law experience that are committed to providing a powerful voice to individuals facing the often-tumultuous issues in this area of law. The range of issues our family law clients may be facing include pre- and post-nuptial agreements; separation agreements; post-separation support; child support (both temporary and permanent); absolute divorce; divorce from bed and board; military divorce; equitable distribution of assets; child custody (both temporary and permanent); retirement benefits and divorce; alimony and spousal support; adoption; and emancipation. Because this area of the law is usually emotionally charged and complicated, the family law attorneys at Arnold & Smith, PLLC act with the utmost dedication to ensure that each client understands his or her options, and then act to achieve the best result possible for that client's particular situation.
Source:
https://www.ncleg.net/enactedlegislation/statutes/html/bysection/chapter_51/gs_51-3.html
Image Credit:
https://www.freeimages.com/photo/a-ring-1525653
See Our Related Video from our YouTube channel:
https://www.youtube.com/user/ArnoldSmithPLLC?feature=watch
See Our Related Blog Posts: