Board Certified Family Law Specialist Matt Arnold answers the question: "How does custody work if one parent moves internationally?"
Divorce is often a complicated and adversarial process. However, things can get even more confusing when a divorce involves partners living in different states. There are many potential legal issues associated with out-of-state divorces, which is why it is best to discuss your particular case with a knowledgeable divorce attorney.
Can a Spouse File for an Out-of-State Divorce if You Live in North Carolina?
Basically, either spouse can initiate the divorce proceedings in any state where they meet the respective state's residency requirements. In fact, it does not matter in which state spouses were married. As long as either spouse meets a state's residency requirements, they can file for divorce in that state even if the other spouse lives in a different state.
When spouses live in two different states, divorce can be filed in one or even two of the states at the same time. When a court issues a final decree of divorce in either state, it will be effective and valid even if the other spouse lives in another state. Once there is a final divorce decree in one state, the divorce proceeding in the other state is no longer valid.
Therefore, if your spouse files for divorce in another state and you live in North Carolina, you should not ignore their out-of-state divorce filing. Consult with our family lawyers at Arnold & Smith, PLLC, to help you navigate the out-of-state divorce process.
What are Residency Requirements for Filing for a North Carolina Divorce?
Residency requirements vary greatly from one state to another. Residency requirements exist to help courts establish jurisdiction over the parties. When filing for divorce in North Carolina, for example, either spouse must have resided in the state for at least six months in order to be eligible to initiate the divorce proceedings.
However, many other states have shorter residency requirements, and some do not require that a spouse has resided in the state for a specific period of time.
Out-of-State Divorce and Child Support/Custody
Child custody and child support are the most complicated aspects of out-of-state divorces. When an out-of-state divorce involves minor children, child custody and child support can only be determined by the court in the state where the child lives.
Therefore, if a spouse files for an out-of-state divorce, the filing will be valid, but the court may not have jurisdiction to make custody and support decisions.
What are the Benefits of Filing for Divorce in Another State?
There are a few potential benefits of filing for divorce in another state. As divorce laws vary from one state to another, some people decide to move to another state to be able to achieve a better outcome.
Different states handle divorce issues differently. For this reason, you could potentially benefit from filing for divorce in another state if that state has more favorable laws for your particular situation. Typically, the following aspects of divorce are handled differently depending on where you file for divorce:
Alimony
Child custody
Child support
Property division
In fact, since all states in the country do not require parties to prove fault to get a divorce, you can get a divorce in any state as long as you meet that state's residency requirements.
Speak with our divorce lawyers in North Carolina to determine whether you can benefit from filing for an out-of-state divorce in your unique situation. Contact our attorneys at Arnold & Smith, PLLC, for a case evaluation. Get a phone or video consultation by calling at (704) 370-2828 to speak with our detail-oriented and well-versed lawyers with offices in Charlotte, Lake Norman, and Monroe, please contact Arnold & Smith, PLLC today or find additional resources here.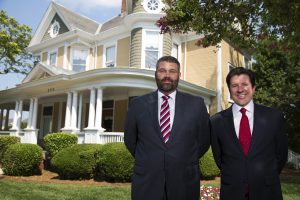 The family law practice group at Arnold & Smith, PLLC includes two Board-Certified Family Law specialists and one Child Welfare Law specialist, as well as several attorneys with many years of family law experience that are committed to providing a powerful voice to individuals facing the often-tumultuous issues in this area of law. The range of issues our family law clients may be facing include pre- and post-nuptial agreements; separation agreements; post-separation support; child support (both temporary and permanent); absolute divorce; divorce from bed and board; military divorce; equitable distribution of assets; child custody (both temporary and permanent); retirement benefits and divorce; alimony and spousal support; adoption; and emancipation. Because this area of the law is usually emotionally charged and complicated, the family law attorneys at Arnold & Smith, PLLC act with the utmost dedication to ensure that each client understands his or her options, and then act to achieve the best result possible for that client's particular situation.
Source:
https://www.arnoldsmithlaw.com/family-law-and-divorce.html
Image Credit:
https://www.freeimages.com/photo/business-travel-series-3-1256260
See Our Related Video from our YouTube channel:
https://www.youtube.com/user/ArnoldSmithPLLC?feature=watch
See Our Related Blog Posts: