Board Certified Family Law Specialist Matt Arnold answers the question: " Is there some property that the judge cannot divide?"
A domestic violence charge can turn the accused's life upside down in an instant. A conviction of domestic violence in North Carolina can lead to fines and jail time. While it is known that domestic violence affects divorce proceedings, how does a DV conviction impact the accused's life?
If there is a protective order against you, follow these tips to avoid violating the restraining order. Otherwise, you may face a Class A misdemeanor charge or Class H felony after two convictions.
So, what are the consequences of domestic violence charges in North Carolina?
Finding a Job May Become Problematic
A domestic violence conviction may mean fewer job opportunities. Most employers in North Carolina conduct thorough background checks as part of their application process.
A job applicant with any criminal conviction may face grim job prospects, even though employers are prohibited from using applicants' criminal histories against them unless their conviction directly impacts their ability to perform the job for which they are applying.
Nonetheless, a job applicant with a clean criminal history has the upper hand over someone who has been convicted of domestic violence or any other crime. Domestic violence convictions carry a stigma, which is why individuals accused of domestic violence may find it problematic to find a job.
In fact, even misdemeanor domestic violence charges may have a negative impact on a job applicant's ability to find a job. Also, it is critical to know that a domestic violence conviction prohibits you from working in certain positions (e.g., working in public service and/or with children).
You Risk Losing Your Job
Besides the potential impact on divorce proceedings, a domestic violence charge may also cause you to lose your job.
Your North Carolina employer can terminate your employment for no reason at all because NC is an "at-will" employment state. A domestic violence conviction can become one of the reasons for an employer to fire the convicted employee.
Your employer may assume that you pose a danger to colleagues or customers. Generally speaking, employers do not want to be associated with people who were convicted of domestic violence or other serious crimes to avoid causing harm to their business.
How Does a Domestic Violence Charge Affect North Carolina Divorce?
In North Carolina, a DV charge can have an impact on nearly every aspect of the divorce process. However, it has the most notable effect on child custody.
If one parent has been convicted of domestic violence, a North Carolina court may award sole custody to the victimized parent. However, if there was a single incident of domestic violence, the accused parent may be awarded some custody or visitation rights, but only as long as that parent can prove that this custody arrangement does not endanger the child and is best for the child.
Often, North Carolina courts award supervised visitation when one parent was convicted of domestic violence. This type of custody arrangement allows the convicted parent to visit their children, but such visits are held under the supervision of an authorized adult.
In many cases, a DV conviction is accompanied by a restraining order. However, protective orders are not always efficient and may do very little to protect the victim. Contact a Charlotte domestic violence attorney at Arnold & Smith, PLLC, to determine how DV charges may affect your divorce case. Speak with our detail-oriented and well-versed lawyers with offices in Charlotte, Lake Norman, and Monroe, please contact Arnold & Smith, PLLC today at (704) 370-2828 or find additional resources here.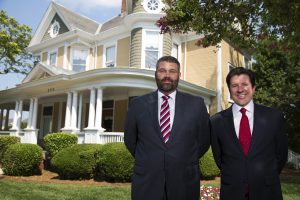 The family law practice group at Arnold & Smith, PLLC includes two Board-Certified Family Law specialists and one Child Welfare Law specialist, as well as several attorneys with many years of family law experience that are committed to providing a powerful voice to individuals facing the often-tumultuous issues in this area of law. The range of issues our family law clients may be facing include pre- and post-nuptial agreements; separation agreements; post-separation support; child support (both temporary and permanent); absolute divorce; divorce from bed and board; military divorce; equitable distribution of assets; child custody (both temporary and permanent); retirement benefits and divorce; alimony and spousal support; adoption; and emancipation. Because this area of the law is usually emotionally charged and complicated, the family law attorneys at Arnold & Smith, PLLC act with the utmost dedication to ensure that each client understands his or her options, and then act to achieve the best result possible for that client's particular situation.
Source:
Image Credit:
https://www.freeimages.com/photo/application-form-1241043
See Our Related Video from our YouTube channel:
https://www.youtube.com/user/ArnoldSmithPLLC?feature=watch
See Our Related Blog Posts: