Board Certified Family Law Specialist Matt Arnold of Arnold & Smith, PLLC answers the question "Can any attorney help me with my family law needs in North Carolina?"
A 40-year veteran of the Asheville Citizen-Times says gay weddings would mean big business to Asheville. The only thing standing in the way is North Carolina law.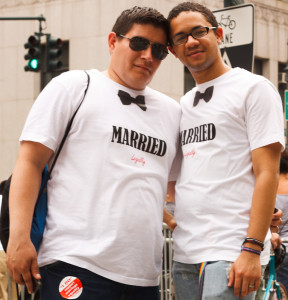 Dozens of scenarios could play out, "depending on decisions made at almost every legal level, from the state attorney general to the General Assembly to the Supreme Court," wrote reporter Barbara Blake in an Aug. 3 article. She cited a July 28 ruling by the 4th Circuit Court of Appeals striking down Virginia's same-sex marriage ban and wrote that the way was paved for North Carolina courts to do the same.
That may be wishful thinking on the part of Blake and advocates of same-sex marriage. But as Blake points out, more than a few businesses may stand to benefit from a change in the law.
Asheville is already a destination for marriages and marriage celebrations and is considered a "gay-friendly city," Blake wrote. Most business owners quoted in Blake's story said they were open to all couples, and did not market themselves specifically to gay couples. The owners of one event-planning and floral design company—life partners Bobby Hill and Mark Arrington—said "the prospect of a new population of brides and grooms is exciting." They conceded, however, that they had no plans to advertise specifically to the "gay market."